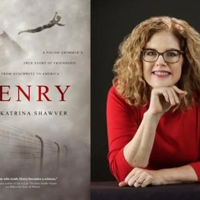 Award-winning Ahwatukee author Katrina Shawver will join more than 50 authors who will be on hand to share stories and ideas about their craft at the inaugural Desert Foothills Book Festival in North Scottsdale next Saturday.
The free event — from 9 a.m. to 2 p.m. Saturday, June 4 at the Holland Center, 34250 N. 60th St. — will offer attendees a chance to browse fiction, nonfiction, memoir, children's books and d other genres and to have books signed by the authors. There will be door prizes and even a raffle. Proceeds from this initial event will fund Holland Center's "Creative Kids: Tell Me a Story" program.
Shawver, author of the award-winning book 'Henry: The True Story of a Polish Swimmer's Friendship from Auschwitz to America', will be joined by Ettie Zilber, author of 'A Holocaust Memoir of Love and Resilience, Mama's Survival from Lithuania to America".
Both of their stories are set during World War II and the Holocaust and set in the neighboring countries of Poland and Lithuania. Together, the books offer a common history and geography and two different experiences of the Holocaust. Shawver's book is about Henry Zguda, Ahwatukee, a Polish Christian survivor of German concentration camps, and his later life in America.
Zilber's memoir follows her mother's story from the Lithuanian Jewish experience and her subsequent adjustment to life in America. Lithuania and Poland have shared borders for centuries.
Zilber was born in a displaced persons camp in Germany, and after retiring from a career in international schools, she is now active in the Phoenix Holocaust Association and devotes time to educating young people and adults about the Holocaust.
"Both books are more timely than ever, given the current events unfolding in Ukraine and the shared history and geography," Shawver said.
Shawver is an experienced writer, seasoned speaker, and recipient of the 2018 Polish Heritage Award from the Polish American Congress in Arizona. Shawver is also available for speaking engagements. For further information: katrinashawver.com, [email protected] or 602-492-1232.
The Desert Foothills Book Festival was born out of the desire of a group of local authors to personally connect with book lovers and promote an appreciation for reading and the literary arts.
"With the Tucson Book Festival to the south and the Payson and Prescott Book Festivals to the north, this small group felt that the greater areas of Phoenix, Scottsdale, Cave Creek and Carefree were missing a valuable opportunity to meet and engage with local authors of all genres," the organizers state on their website, desertfoothillsbookfestival.com "The year 2022 marks the first year of the festival with many, many more to come.
Organizers describe the festival as "a celebration of the importance of reading in our community" that aims to "promote literacy and a love of reading among adults and children by creating an interactive and inclusive place for readers and authors to connect".
Among the authors who will be present are Karen Odden and Dan Baldwin, who will give presentations on the craft and skills of writing.
Odden will talk about the importance of setting in any novel, especially when writing historical fiction. Her passion is Victorian England and she will share photos of some of the places in London that have helped her bring her stories to life.
Baldwin will explain his 20 years of experience in psychic sensing and spiritual communication, followed by how he structured his books to combine these realities with effective storytelling.
For an overview of the other authors who will be present at the event on Saturday, see desertfoothillsbookfestival.com