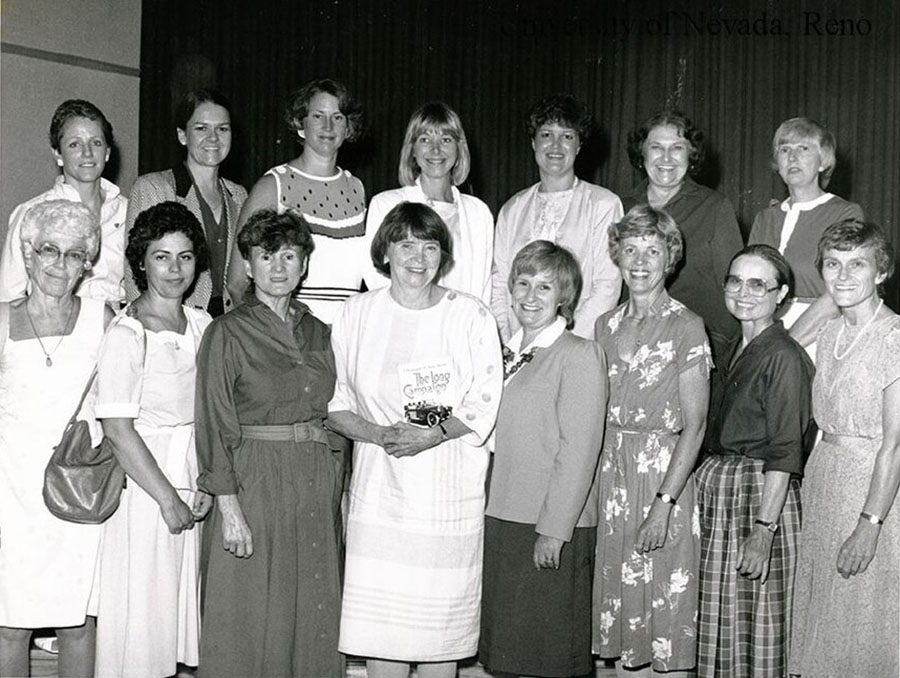 Anne Howard, a university English professor for 37 years and a campus figurehead who helped found the women's studies program, died in May. She was 94 years old.
Howard, who retired from college in 2000, had moved from Reno and was living in Redding, Connecticut during the pandemic with his son Jason and his family.
"The accomplishments are legion – and legendary," Jason said recently. "She savored literature, art, scholarship, politics, family and friends every year. Among Anne's many hyphens were mother, wife, friend, daughter, grandmother, aunt, teacher, journalist, and distinguished professor at NUR. In addition, one could add a feminist, politician, leader, author, actress, activist, public television spokesperson, CASA (Court Appointed Special Advocate) and OLLI (Osher Lifelong Learning Institute) , volunteer or Chautauqua scholar.
Anne Bail Howard taught and directed the remedial English program at the University of New Mexico before she and her husband, Bill, an art professor, joined the University's faculty in 1963.
Jason Howard noted that the Howard family arrived in Reno after Bill "unexpectedly lost his teaching job" in New Mexico. "After a job search on the road, he came back with an offer to teach painting at the University of Nevada, Reno," he said. "The bonus for Anne (who was finishing her thesis in English) was her position in the English department. For several years she was the only female professor in the department.
Howard quickly made an impact. Jason Howard added: "The new job was a giant leap that she took very seriously. Some male colleagues were unsure of a woman in the department, but several enlightened men helped break down barriers. While teaching full-time, usually English composition, to often reluctant undergraduates, she used the summers to complete her dissertation on Nathaniel Hawthorne. Finally, with a doctorate, she was allowed to teach classes reflecting her passion for 19th-century American literature.
"When she learned that her salary was significantly lower than that of her male colleagues, she made a plan. First, she ran for the Faculty Senate. Once established as a senator, she launched an ultimately successful 11-year campaign to force a study of faculty salaries, an effort that resulted in salary adjustments for women across the University.
Founder of Women's Studies
In 1973, Howard served as chairman of the President's Ad Hoc Committee on Women's Studies. That year, Howard sent a letter to University President N. Edd Miller, requesting funding to start a women's studies program by 1974.
"We present the materials for your consideration in the hope that this report may be the first step in the realization of a women's studies program at UNR," Howard wrote. In the 1994 article, "Defining Moments in Women's Studies at the University of Nevada, Reno," by Sheryl Kleinendorst and Jean Ford, the authors noted that Howard's letter was not simply a request. It included survey results focusing on possible courses, student preferences for courses, and a survey detailing universities of similar size and scope where women's studies programs were already in place.
Howard's letter included the news that several departments – political science, English, sociology, social and correctional services, anthropology and art – were already offering courses on the subject or planning to add courses soon. The short-term goal was to offer a foundation course, Women's Studies 101, and within three years to offer a minor in Women's Studies.
Howard added in his letter, "We have tried to be realistic in our demands, taking into account the University's perennial lack of money for new programs, but recognizing the real need to develop programs to the women. Although it took some time, the Women's Studies 101 course was offered by the University in the fall of 1979.
In a 1979 interview, Howard, who taught the language portion of the course, said, "In a way, it's an effort to remedy past omissions. … I think women need to be told about their own past and their own character.
Howard worked tirelessly behind the scenes throughout her career at the University to ensure that women's studies gained a foothold. A program director, Elaine Enarson, was appointed for the 1985-86 academic year. A women's center was founded around this time, eventually finding a home in one of the Center Street Victorians. A new major in Women's Studies came on board in the late 1990s. Director of Women's Studies, Jennifer Ring, noted in a 1997 interview that, of the program's growth, "English teacher Anne Howard started it, and Ann Ronald, former dean of arts and sciences, made it a priority.
"The Long Campaign" and Equal Rights
In addition to the work Howard did on numerous campus committees, Howard was an award-winning instructor and writer.
"She loved teaching teachers so much that she spent many years with the Nevada Writing Project, helping high school teachers across Nevada," Jason Howard said. "Her colleagues, who were familiar with her talents as a speaker during the Faculty Senate's crusades for pay equity with men, called on her skills as an interpreter on several occasions.
Howard's 1985 biography of Anne Martin, "The Long Campaign: A Biography of Anne Martin," brought to life a story that was significant in Nevada history. Martin, who graduated from the University in 1894, was one of the founders of the University's history department. She traveled statewide in an ultimately successful campaign that led to the passage of women's suffrage in Nevada in 1914. Martin then ran for the U.S. Senate.
Martin, writes Howard in her book, was "the classic new woman…educated, independent, traveling, ambitious." Martin has made it her mission to not back down and find ways to empower other women. She wished, writes Howard, to be "a role model for women to emulate – a woman acting for her cause with all her ability".
A life of teaching, community involvement
Howard herself had grown up around reading and education. His mother, Effie, was a schoolteacher. His father, Ernest Bail, was chief road engineer. In high school, she had worked as a proofreader at the newspaper in Albuquerque, New Mexico, earning 85 cents an hour. After graduating from the University of New Mexico in 1949, she served as editor of the Albuquerque newspaper, then moved with her husband Bill, who was an artist, to Mexico City where she worked on the editorial staff. an English language newspaper.
In a 1985 interview, Howard said that while she enjoyed the writing and reporting involved in journalism (she graduated Magna Cum Laude from the University of Colorado with a degree in journalism), "I felt I didn't served no purpose in journalism."
When she and Bill moved back to New Mexico, she taught high school English and loved it.
"So I went back to school to get my doctorate," she said. She and Bill also had family – son Jason and daughter Emily. Their home was based on the arts, on learning, respect for others and the fight against discriminatory behavior. It was natural, she says in her 1999 oral history, that when there were opportunities to change the status quo for the better at the University, she felt it was her duty to do something about it.
"When I have causes, I tried to behave very well, earn A's," she said in a 1999 college oral history. "I had two things I wanted to take care of. : the Women's Studies Program and the Women's Center, and that makes you a public and polite person – up to a point.
It was during the 1980s that Howard became an even more visible and notable presence in the community. She lobbied for the Equal Rights Amendment in the Nevada State Legislature and supported and was the confidante of many of Northern Nevada's most prominent and pioneering female political figures. – State Deputy and State Senator Mary Gojack, Secretary of State and Attorney General Frankie Sue Del Papa and Lieutenant Governor Sue Wagner. When Bill Howard died of cancer in 1986, Howard continued to give back to the community. She served as an on-air spokesperson for public radio station KUNR and public television station KNPB, and was actively involved in Chautauqua, performing as notable female figures in American history.
In 2019, Howard sold his house in Reno and moved to an assisted living facility in Ridgefield, Connecticut. She moved in with Jason and his wife Gail during the pandemic.
Howard is survived by his daughter Emily Howard and his wife Jennifer Strauss and their children, Emmett and Marina Blu Howard of Berkeley, California; son Jason Howard and wife Gail Hall Howard of Redding, Connecticut; Anne's granddaughter, Emily Hall, and great-granddaughter Rosie Hall of Redding, California; and a cousin, Carolyn Bail Isbell of Montrose, Colorado.
A celebration of Anne Howard's life is scheduled for late August in Reno. Once finalized, Jason Howard will share rally details on his Facebook page.