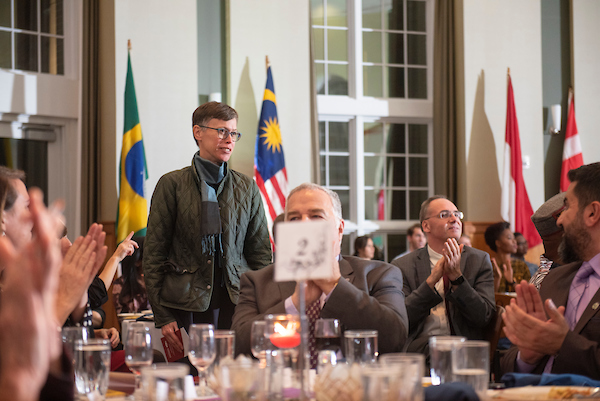 Photo by Hannah Ruhoff.
Faculty, staff and alumni come together to celebrate the International Education Week 2019 awards at Walter Rotunda.
International Education Week, organized this year from November 15 to 19, 2021, aims to celebrate and elevate the "resilience of the OHIO community in global engagement".
Following the outbreak of the coronavirus pandemic, the IEW Virtual Celebrations 2020 examined the global interdependence of shared Bobcat experiences across video narration and peer-reviewed glory.
This year, as the pandemic persists, the university community continues to find its common path.
The International Education Week committee invites nominations, via 30- to 60-second videos or short text, to recognize and celebrate faculty, staff, alumni and community members in the region who have exemplified excellence in global engagement through teaching, learning, research, outreach, and service. All nominees will be recognized at the IEW Gala (tentatively scheduled for November 17, 2021) and will receive a small token of appreciation.
Areas of excellence for appointment include:
Faculty and Staff Applicants:
Global teaching and learning

: Commitment to international education by developing courses with international content or courses on special subjects that could serve as models for the internationalization of study programs at OHIO. The teaching makes students aware of international issues and / or involves them in learning activities abroad (physically or in a virtual setting).

Global research and creative activity

: An "international presence" in the research field, academic and creative activities of the candidate, through the creation or discovery of new knowledge, with demonstrated work that involves international collaboration and activities in person or virtually.

Global partnership, service and awareness:

Distinguished contributions for the promotion of international understanding and services to the OHIO and / or the international community by developing opportunities for collaborative activity with an institution abroad and / or by engaging in activities of community development and capacity building abroad.

Support global engagement:

Support the promotion of meaningful international understanding, global engagement or international education at home or abroad through innovation, creativity and inspiration in promoting global education, cultural understanding, intercultural teaching and learning and / or the development of international learning among students, staff and faculty.
Alumni nominees:
Global leadership

: Demonstrate outstanding contributions to global education and international programs offered by OHIO. Instrumental in the strategic advancement of OHIO's reputation as a recognized global leader.
Nominees from the community:
Global diversity and inclusion

: local individuals or community organizations who demonstrate exceptional service, advocacy or outreach promoting holistic community integration and support for international students, as well as the programming and networks that exist beyond the OHIO community.
How to submit
Nominations must be made by current or former OHIO faculty, staff, students or alumni. Learn more and submit applications by video (30-60 seconds, horizontal format) or written statement before October 15, 2021. Multiple applications are allowed by a single nominator.
Applications should include the following information:
Name of the person proposing.

Applicant's name, position / title / department or relationship to Ohio University.

Category in which the candidate's contributions align with the above areas of excellence.

A brief overview explaining and endorsing the candidate's efforts and accomplishments towards "OHIO Community Resilience in Global Engagement".
Once applications are received, applicants will be invited to share a short acceptance video or written statement. The compiled videos will be shared at the IEW Gala on Wednesday, November 17, 2021. The IEW Gala is tentatively planned as a hybrid event, pending health and safety guidelines in the event of a pandemic.
Please contact [email protected] or visit www.ohio.edu/iew for more information.
Help share, celebrate and follow IEW events using # OHIOEW2021 on social media and follow Global Affairs for updates on Facebook, Twitter, and Instagram.