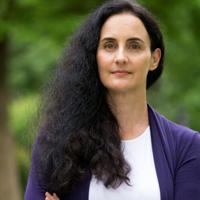 More than a century after her drowning off the coast of California, Emma is on the move.
She is stalked by Philip, a ghost "cleaner" determined to send her to her final resting place. But restless, Emma is determined to travel the world, not to leave it, in a way she never could in her lifetime.
In our eyes at nightthe new novel in The Last Ghost series by Mylène Dressler, professor emeritus at Guilford College, Emma has reached the Utah desert, where she and Philip find themselves, and the ruggedly beautiful landscape is not so empty it seems, because even ghosts are haunted by those before them.
At 7 p.m. on Saturday March 19, our eyes at night debuts at Scuppernong Books in Greensboro, where it is already on sale. This weekend, Dressler, who currently lives and writes on the Oregon Coast and in the Utah Canyon, will return to Guilford College to teach a characterization-focused creative writing workshop.
The Hague-born author and teacher was a professional ballet dancer before beginning her literary studies at the University of San Francisco and earning her doctorate at Rice. From 2011 to 2021, she taught creative writing at Guilford.
Moving here to teach has also been a transformative journey, said Dressler, who has also written often semi-autobiographical realistic fiction.
"My first novels, very realistic, were family dramas, sometimes psychodramas, where the story and the general trauma haunted the characters. In the middle of my career, I took what was always implicit in the work and made it literal.
Dressler grew up loving The turn of the screw and The Haunting of Hill Housebut despite these formative texts, "I didn't feel entitled, for lack of a better word, to write ghost stories.
In 2014, she published her fourth novel, Anna F's wedding, about an elderly Jewish woman who mistakes herself for Anne Frank. "It is very clear that she is not this important figure in our history, but the story haunted this book."
Dressler felt the emptiness that besets many writers at the end of a big project, and her husband suggested a trip to California.
"We were driving along the beautiful Route 1 that hugged the coast, winding through gloriously atmospheric mists and rocks, and I told my husband it was so beautiful that if you died there, you wouldn't want to leave. When I said that, Emma just appeared in front of me and flooded my brain.
At first, Dressler knew little about the character beyond how the ghost appeared in his head.
"I had ideas about her being a working-class immigrant and I knew it would be a story of someone forced to be invisible in their lifetime and still expecting to be invisible in the death."
Telling a story from a ghost's perspective wasn't new, but what Dressler did with the idea is.
"What I finally learned from Emma is that in her fight to be visible, she also finds that she has to be mobile and reject the general idea that ghosts are bound to a place. She was on the edge of a continent, at the western end of the west coast, and she could start moving east, and moving through these different places, and she herself comes from a family of immigrants, and I wanted her to reverse Manifest Destiny and roll back across the country.
As Emma arrives in new places, she is haunted by the ghosts already there.
"It becomes a series about moving into places that aren't empty, and that's the driving theme. When this ghost travels, it enters spaces that have already been claimed. And so the stories become about who can occupy space in the world, how to negotiate space, not just between the living and the dead, but the different stories that haunt each landscape.
Dressler said that in our eyes at nightthis theme is still fully developed.
"The desert countries of Utah and the Southwest, where I live part of the year, are just rich with these competing and very complex histories of indigenous peoples, colonizers and immigrants, and travelers, and there are a lot of bones in the ground."
The first third of the book is from the perspective of its pursuer, Philip Pratt.
"His whole point of view is that we have to maintain borders, and Emma disrupts that. He absolutely believes that he is doing the right thing and bringing peace to the dead and the living. The novel also questions whether people can change when presented with new information. Which is very interesting to think about right now.
And more than Emma, ​​​​Philip and the desert where they find themselves. Its themes include colonization and climate change.
"The sheriff helping Pratt is half Navaho. It partly occupies the indigenous world but also comes from colonizers. I like characters who cross borders, navigate conflicting spaces and challenge definitions.
When asked if her family history and heritage had been influenced by this, Dressler replied "absolutely."
" I am Métis. I am an immigrant. In my novels, there always seems to be an echo or an obsession linked to that, because it's my own positioning in the world. In my first novels, I was literally talking about my own Eurasian history. And then it became part of my way of thinking about writing and the world, and my own way of going through it.
It was at Guilford College that she found a new way to explore this.
"I was actually living in the desert and writing full time, but I missed out on creative writing education and saw an advert for a guest writer position at Guilford College. I thought it would be nice to come there for a year, but that was 2011, and I stayed for a decade because I just fell in love with Guilford and Greensboro.
She credits the college and the region for expanding her literary boundaries.
"I now know it was part of that transition from realistic mode to speculative fiction, because Guilford is exactly the kind of place that nurtures that and encourages you to do what you want to do in the world."
She also discovered surfing.
"It was also a Guilford thing, because a beloved colleague of mine there, Maia Dery, introduced me to surfing. It also really transformed my writing. I think there's a powerful connection between the almost kind of flutter and the willingness to go with the flow, which connects writing and surfing I first surfed at Wrightsville Beach and then spent much of the pandemic surfing here on the west coast.
When she returned West, Dressler had regular access to the ocean.
"It became an important part of my understanding of myself and the non-human world. The new book is heavily invested in that. All of the books are really about the setting, as most ghost stories are, but the new one also thinks a lot about the natural world and what the living do to it. There's a kind of climate conversation going through it, and I think that comes from being able to spend more time immersed in the non-human world through surfing and hiking. It encourages me to think not only of the dead and the living, but of the other thing that lives all around us, and that is also dying, which is the planet.