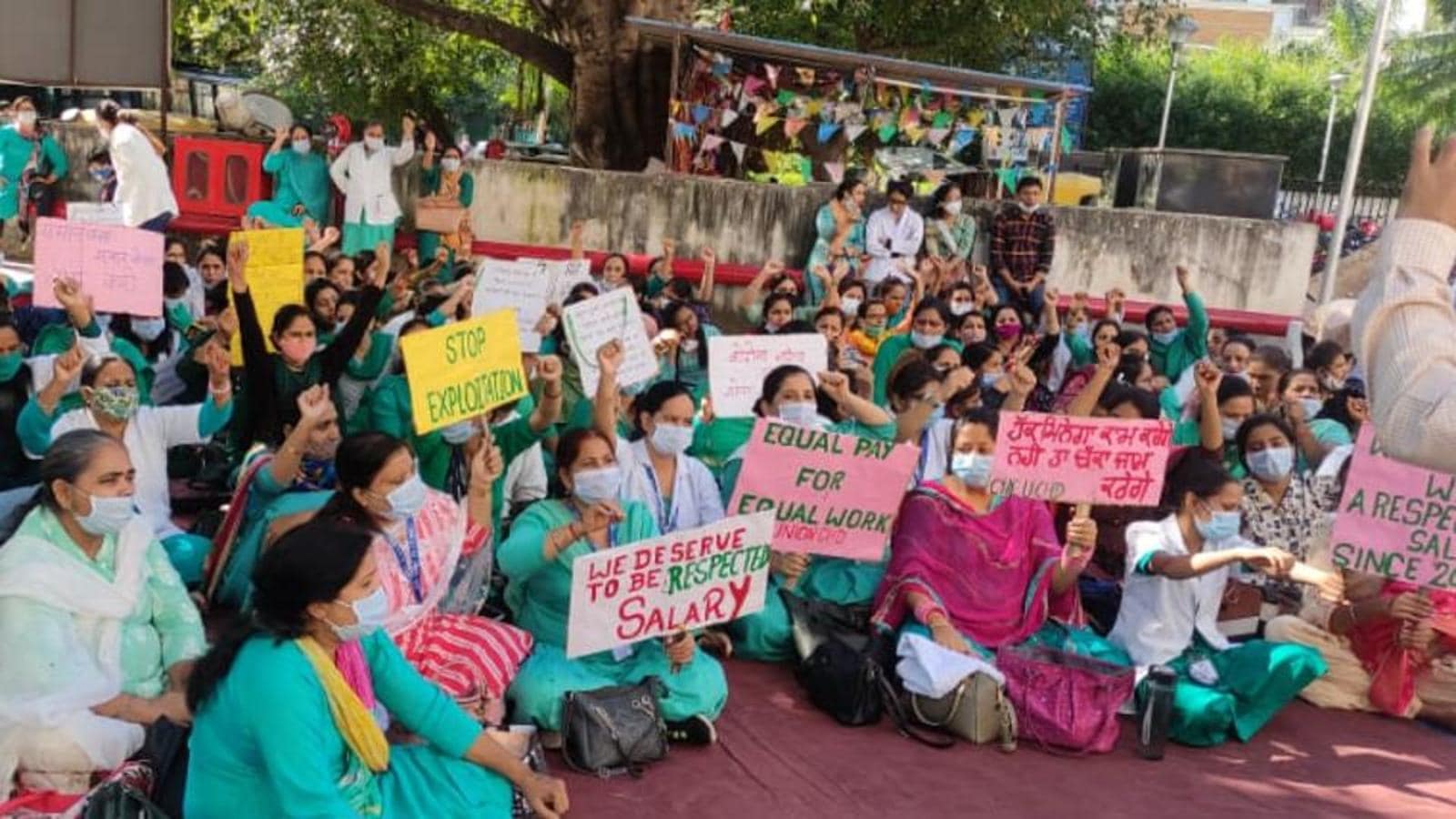 UT's health department cut off the services of around 180 National Health Mission (NHM) employees after they stepped down on Thursday to protest against proposed revised working conditions against a pay rise, at the government multi-specialty hospital (GMSH), sector 16.
Approximately 500 NHM employees, working under the UT health department as doctors, paramedics, management staff, nurses, pharmacy officers, auxiliary nurse-midwives, laboratory technicians, dental technicians and other members Group 4, have worked with wages lower than the approved minimum wage since 2013.
Earlier in August, more than 300 NHM workers took 12-day indefinite leave to demand equal pay for equal work. Following the continued protest, the UT administration gave a written assurance of a salary increase which read: "The finance department has no objection to meeting the additional expenses of ??3.92 crores per year to pay wages at par with the DC rate to NHM workers.
However, two months after the written assurance, UT's health department on October 26 asked NHM employees to complete a consent form with revised terms and conditions. Under the new conditions, if NHM employees opt for DC rate wages, their working hours and holidays will be revised. But, if they do not follow the revised guidelines (which are followed by all staff receiving DC rate salaries), they will have to continue with the same salaries.
Patient care has hit
Due to the unavailability of NHM workers in government health and welfare centers, especially in rural areas, general outpatient services and Covid vaccination campaigns have been affected. Patient care services were also affected at GMSH-16 and civilian hospitals in Sectors 22, 45 and Manimajra.
In an opinion, UT health secretary Yashpal Garg said: "NHM staff insist on equal pay, but don't want to work eight hours, as is the case with staff at the NHM. DC rate, and also wishes to benefit from the applicable holidays and benefits under the NHM. which is not available in the case of staff at DC rate. The department cannot allow these staff to risk the lives of patients, especially when hospitals are full of patients with Covid-19, dengue and malaria. To avoid such frequent incidents of indiscipline, we must deal with them strictly. "
Garg said: "NHM staff, who did not show up for work on Thursday, are not allowed to return to duty and a process will be initiated to end their contractual engagement with immediate effect. They will not be allowed to enter the premises of a healthcare facility and in the event of unauthorized entry, appropriate measures will be taken in accordance with the law. "
"The existing staff should be assigned in teams and additional duties to make up for the staff shortage. The outsourcing agency is requested to provide staff to replace the protesting NHM staff. During the process, preference may be given to the 81 outsourced employees who were recruited during the second wave of Covid and were recently disengaged, "he further ordered.
"The staff will continue the strike on Friday"
Amit Kumar, general secretary of the NHM union, said: "The UT administration has betrayed the health workers. They had guaranteed us a pay rise to the same level as the DC rates but now they are reviewing our working conditions. We only asked NHM workers to protest who are unwilling to accept UT's decision. Of the 500 employees, only 180 demonstrated on Thursday. However, we will continue our protest on Friday as this immediate termination is unethical. "