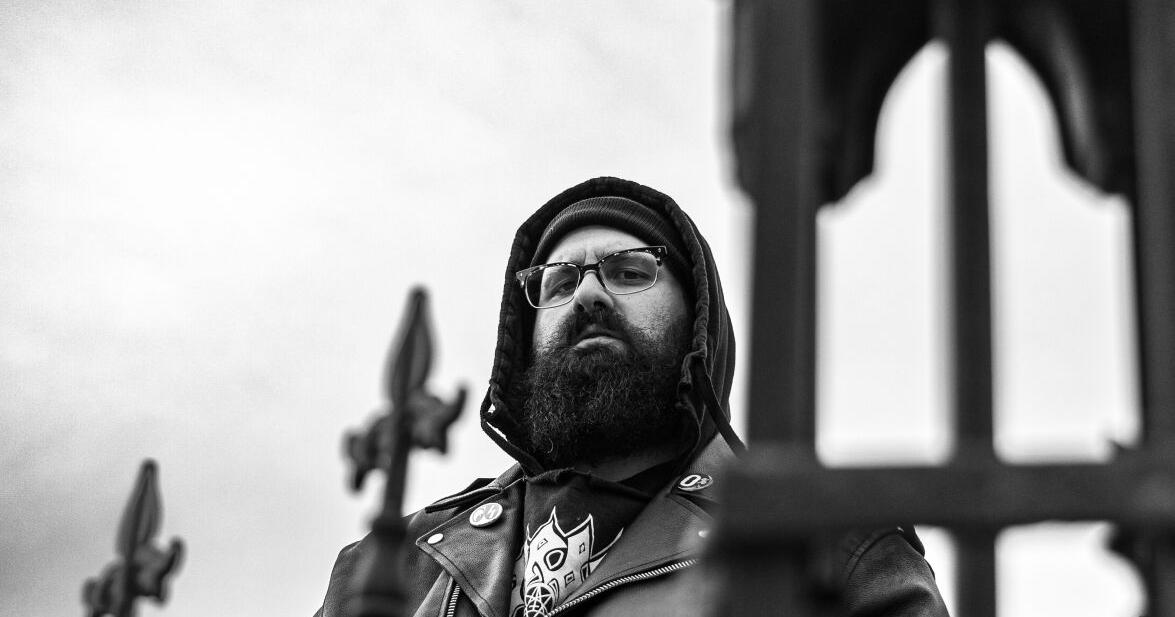 A writer's life is an inner life, a life that may have little to do with how one appears on the outside. Justin Criado – writer, editor of this newspaper, Buck's Gate ambassador, metal music fanatic, cat lover and Harley rider – gives readers a glimpse into the inner workings of his mind through his column, The Chopping Block, for years. The columns are an excursion into the macabre, distributing slices of dark reflections tinged with horror, humor and pulsed by the intense music he loves. His first book, "Chronicles of Chaos," was released Tuesday and will be the latest featured work from Monday's Discovered Authors, at 5:30 p.m. at the Wilkinson Public Library.
The laconic, easy-going writer from Pittsburgh is staunchly independent when it comes to the book industry. In July, Criado earned her master's degree in creative writing with a focus on publishing from Western Colorado University. There he studied with bestselling author and owner/founder of Colorado's WordFire Press, Kevin J. Anderson ("Dune," "Star Wars"). For his master's project, he co-edited and published "Weird Tales: Best of the Early Years 1923-25" with bestselling horror author Jonathan Maberry. The collection includes lost pieces by HP Lovecraft, Harry Houdini and "other bizarre writers of that era," said Criado, who publishes his works under the name Rev. Justin Criado.
"I decided to pursue the publishing program because I wanted to learn how to publish my own books," the ordained minister said. "My vision is to operate and distribute my work as an underground record label that only releases short runs of Scandinavian black metal on cassette tape. If you know, you know. I have no desire to be part of from mainstream or pop culture in any sense when it comes to my writing. I want to do my own thing and foster a cult. And there's always an underground. I was lucky enough to receive a Telluride Arts Fellowship that covered expenses related to the release of "Chronicles of Chaos".
"Also, damn, Amazon. A billionaire trying to leave Earth in a penis-shaped rocket doesn't need my money.
For Criado, writing and the metal music he worships go hand in hand.
"I'm a shameless metalhead. I'm literally listening to Slayer's 'Seasons in the Abyss' right now," he said. "I can't write without music, and I almost always listen to music no matter what I'm doing, so it seeps into my tracks in an insidious way, especially when I'm exploring a thought and then I hear a lyric that I'm going to reinterpret, given my state of mind at the time. It really doesn't make any logical sense. If I could explain it better, I would. But as Slayer said, "Get out of you and let your thoughts run out, as you go crazy, go crazy!"
The voluntary fall into madness naturally leads to the horror genre that dominates his work. He grew up watching classic black-and-white Universal Monsters movies with his dad. Early monsters such as "The Mummy" and "The Creature from the Black Lagoon" sparked Criado's fascination with fear.
"I was scared of everything as a kid, thanks to movies like 'It' and 'Child's Play'. Clowns eating children and toys wielding butcher knives were very real to me at that age," he said. "But the older I got, the more I appreciated the writing, the stories and the effects behind them. Then you have catwalk horror, like 'Goosebumps' and 'Are You Afraid of the Dark?'
As hair-raising as the genre can be, Criado said he doesn't find a hopeless artistic prospect in any way.
"I think horror is a more sober look at the world, especially at the things people don't want to think about," he said. "Horror allows people to momentarily experience the worst of humanity, but then laugh it off as fiction in the end."
Horror, in fact, is a genre that enjoys huge popularity if the rise of horror movies – especially at this time of year – is any indication. Horror, he says, holds up a mirror to the deepest parts of the human psyche.
"Watch Jeffrey Dahmer become a rockstar again in 2022," Criado said. "Obviously he was a terrible person, but people still glorify him and even take advantage of him and what he did. People, whether they want to admit it or not, have this morbid curiosity deep inside It's a bit unsettling and scary, but horror allows people to indulge in it.
This weekend's Telluride Horror Festival is one event Criado will never miss. He's especially looking forward to Clint Howard serving ice cream at the ice cream social, then the screening of "Ice Cream Man," as well as Joe Begos' latest "Christmas Bloody Christmas" and the new "V/H/S/ 99."
"But I like to find something new that I didn't necessarily expect. I always check the author's readings and events," he said.
His own writing for the Daily Planet has been recognized by the Colorado Press Association as one of the best in the state over the years, and his work has been featured in the Denver Post, Westword, Salt Lake City Weekly, Phoenix New Times, Pittsburgh . Post-Gazette and Pittsburgh Tribune-Review.
"Chronicles of Chaos" is a three-year collection of pieces by The Chopping Block, which he revisited and expanded to make them "a little spicier". Read: scarier.
What is Criado afraid of?
"I have anxiety. I'm pretty much scared of everything, but it makes my plays, especially in 'Chronicles of Chaos', little pocket panic attacks. Perfect for the apocalypse," he explained. "Besides, I hate spiders."
"Chronicles of Chaos" marks the beginning of what he considers a life of independent releases.
"I already have the sketches for 10 to 12 new pieces for my next collection (working title: 'Lies I Tell My Cat'). I plan to bury myself in writing in early 2023," he said. "My overall vision is to release at least one book per year for the next 10 years. If something doesn't give way within that time, then maybe I'll get a real job or leave Earth too.
"Chronicles of Chaos" will be available this weekend at the Horror Fest headquarters at the Sheridan Opera House's SHOW Bar and Between the Covers. Additionally, orders can be placed at justincriado.com. Because f—k Amazon. The Criado Discovered Authors' Talk and Book Signing will be held Monday at 5:30 p.m. at the Wilkinson Public Library.