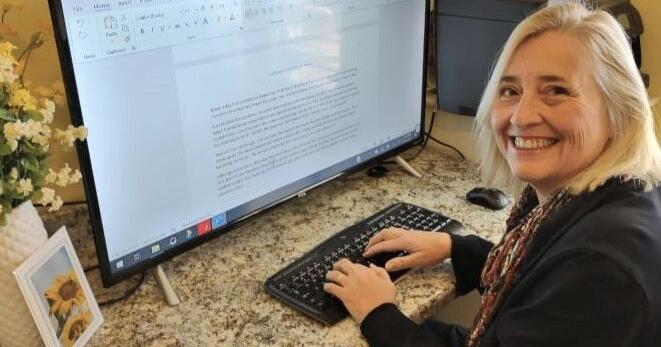 A new historical fiction novel, Sunflowers in the Snow, recently debuted in stores and online. The novel was written in its entirety during author Teri Brown's two-week stay at the Weymouth Center for the Arts and Humanities' Writers-in-Residence Program.
A former Moore County resident, Brown attended the program four times to work on other unpublished works before penning Sunflowers Beneath the Snow, her first fiction novel, during her final stay in 2020. she solidified her ideal routine—one that allowed her to finish a 50,000-word novel in two weeks.
"I tend to get up early, eat breakfast, then write, write, write. I eat my lunch then I walk around, I come back and I write until dinner. Then I write until I go to bed.
The Boyd House at Weymouth Center, she says, facilitated this process in ways she cannot exactly explain.
"I almost think old writers leave parts of themselves and you take them back," she says. "As soon as you get there, the ideas start flowing into your head. I could sit in a hallway and feel the inspiration is there.
Boyd House is a 9,000 square foot Georgian mansion built in the early 1900s by novelist James Boyd, known for hosting such literary greats as F. Scott Fitzgerald and Thomas Wolfe. In 1979 the house was purchased by the non-profit organization Friends of Weymouth for use as a cultural centre. That same year, Sam Ragan—author, NC Poet Laureate, publisher of The Pilot newspaper, and chairman of the Friends board—launched the Writers-in-Residence program. The program offers writers selected through an application process a room equipped with linens, a desk and chair, and the use of common areas like the kitchen and dining room.
Brown found inspiration in every room of the mansion and particularly enjoyed the Writer's Porch, where people walking the grounds "don't even know you're there." But her favorite part of the house was the background noise, much like what she got used to working from her own living room.
"It was quiet in Weymouth but the house itself has a lot of noise. Being a public space there were people outside in the garden and people can walk into the house to hear them moving around downstairs. It was like being at home.
Application to the program requires residency or close ties to North Carolina, previous publishing credit, a specified project, and a commitment to stay seven full days (Monday through Monday) with a maximum of 14. Although the program is free, there is a suggested donation of $250/week.
The most valuable part of Brown's stay was "having the freedom to write how, when, and where I needed without any other distractions," which ultimately led to the completion of her new novel, which follows the journey of three generations of women who suffer the consequences of the decisions made by a Ukrainian rebel.
The story came to him three years before he wrote it in 2020. The ending of the novel is based on real events told to him by his daughter's Ukrainian friend. "She told me the story and I thought 'this can't be real'. The thing that happened to her was so amazing, but she couldn't tell me how she got there.
Thus, the Sunflower Beneath the Snow ending was born. The rest was just waiting for Brown, a nonfiction author, to have the courage to invent it.
"I was afraid to let go of the story. I was afraid to write," she says, adding new advice: "Don't let anything stop you. If you have a story in mind, write it down."
Brown was born to an Air Force family stationed in Athens, Greece, who moved to Ohio before settling in Moore County in 1979 – the same year as the writers program in residence was launched. That year, Brown attended Pinecrest High School before transferring to the North Carolina School of Science and Mathematics.
After high school, she earned degrees in early childhood education and psychology at the University of North Carolina at Greensboro. In Greensboro, she bought her first home and had three children, then moved to Moore County and had another child. She now lives on the coast, but two of her children and her mother live there.
Sunflowers in the Snow can be purchased at The Country Bookshop at 140 NW Broad St. in downtown Southern Pines. A signed copy can be purchased from Brown's website, www.terimbrown.com.
The Weymouth Center for the Arts and Humanities hosts other literary events such as the Write-On Children's Writing Camp, the Cos Barnes Fellowship in Fiction, the Moore County Writers' Competition, and the James Boyd Book Club. The center is celebrating Boyd House's 100th anniversary this year with a series of events called 'Weymouth Wonderful 100'. Learn more at weymouthcenter.org.