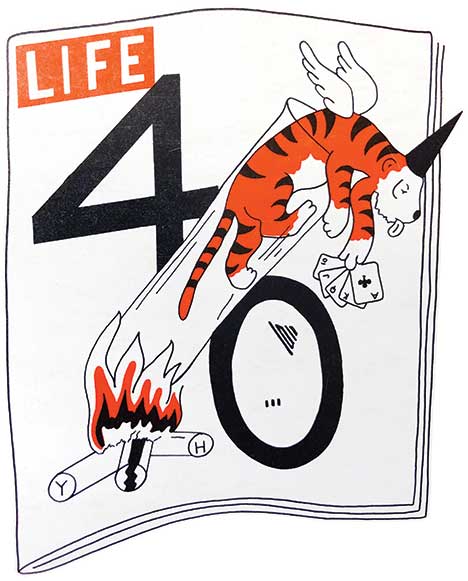 It is difficult to read the happy story of the Class of 1940 with the knowledge of the next chapter in history. The 508 students who graduated this spring celebrated as usual, with house parties, athletic competitions and a ball. In five years, 32 people would be dead, victims of a war that most classmates thought the United States would not enter. No other class has paid such a high price.
With the recent death of Marshall Forrest, the last known living member of the 1940s, the class column in PAW will come to an end. Marshall's memorial appears on page 51; a senior class photo is on page 35.
From their first day on campus, the class noted the changes happening around town and abroad — and they seemed to approach it all with a self-deprecating sense of humor. There was a lot of discussion about an article in a publication by Sarah Lawrence describing the sons of "Old Nausea": "They have a particular way of them that is often exaggerated when it comes to cropped pants, checkered coats and pipes." says the article. "Good dancers, although some tend to be a little violent in the vine steps and the 'side flickers'. " [Note to self: Get video of side-twinkles.]
Edgar Palmer was redeveloping downtown: "Old Nass was no more," the 1940s story reports, "[b]but it was the lavishness of the new Yankee Doodle Taproom that quickly made us forget…." Palmer's vision led to the Princeton we know today — but forced the relocation of most of the city's black community in the process.
The class sometimes laughed at his lackluster academic reputation, but time proved him wrong. In fact, 1940 produced one of Princeton's most important university leaders: future Princeton President Robert Goheen, who would transform the university with coeducation and building. Others have also left lasting marks: pediatrician T. Berry Brazelton, who has counseled countless parents through his books and syndicated columns; William Colby, former director of the CIA; and U.S. Senator Claiborne Pell, whose legislation helped low-income students attend college. The Pell Fellowships were named in his honour.
The sophomore year was known for its "varied accounts of the experiences of three juniors who made a round trip to Bermuda at the expense and heartache of the Furness Line," the story says, but the year's report junior notes Hitler's invasion of Czechoslovakia. (Another invasion also drew attention: the Martian attack near Grover's Mill: "As prominent members of the psychology department found themselves hoisted by their own firecrackers, frantic mums overwhelmed the local office of Western Union and the weekend threads of old Nassau finally found themselves with an excuse to breach the 12:40 p.m. deadline at Sarah Lawrence."
As seniors, the students recognized the changes taking place around them: from a campaign for "radical changes in the Club system" at home to the presence of the German army near Paris.
"On the eve of perhaps greater changes at home and abroad," their story goes, "we can only hope that the next revolution will be less bumpy and that the Class can return to 1960 at its 20th reunion. in a less chaotic world. "