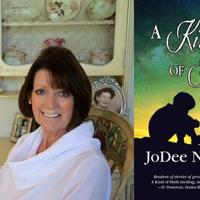 Local author JoDee Neathery's book 'A Kind of Hush' has been named as one of five finalists for the 16th Annual National Indie Excellence Awards in the hotly contested mystery category.
This is Neathery's second book to receive a mind boost during the pandemic when she was able to work on it more. "A Kind of Hush" is classified as literary fiction with a whirlwind mystery and is character-driven.
The National Indie Excellence Awards are open to recent books in English in print by freelance and independent publishers and finalists are determined on the basis of top-quality written content and excellent presentation. "Having your work recognized by a reputable book prize competition is an honor that doesn't fade over time," Neathery said. "The award-winning label is a powerful validation in any field."
Although Neathery has written in one way or another all her life, she didn't publish her first novel "Life in a Box" until 2017 and it was among the first three winners of the Firebird Book Awards. This novel is loosely based on actual characters from Neathery's life, although the events in the book are fiction.
"A Kind of Hush," described by a Google reader as "amazing and it kept me going as I read it," began with Neathery waking up at 3 a.m. thinking what the character of this book. She knew the seven year old boy in her mind had to be into what she was going to do, but she didn't know what he was going to do. This childishly wise old soul boy adds humor to the book which contains surprising twists and turns in the midst of a death in the family.
Her third book, "Dust in the Wind," is still in the incubator as Neathery says, but she has the premise with a little more writing to do.
When Neathery and her husband moved to Cedar Creek Lake years ago, she helped form a book club called Pinnacle Bookers. These book club friends believed in Neathery and encouraged her to continue writing and then publishing her works. She says that without them nothing would have been published and she calls them her champions.
Neathery is currently promoting his books and this is a full time job in itself. However, when she has free time, she enjoys golfing, attending one of her grandson's ball games, or just daydreaming on the back porch where she chronicles sometimes with a playful outlook on life. .
Neathery books can be found at Bookish in downtown Malakoff or on Amazon where "A Kind of Hush" has a 4.4 out of 5 star rating and many great reviews. With not only recognition from the National Indie Excellence Awards, but also more competition results to come for the author, it seems Neathery might be right to say "maybe I did something right this time ".