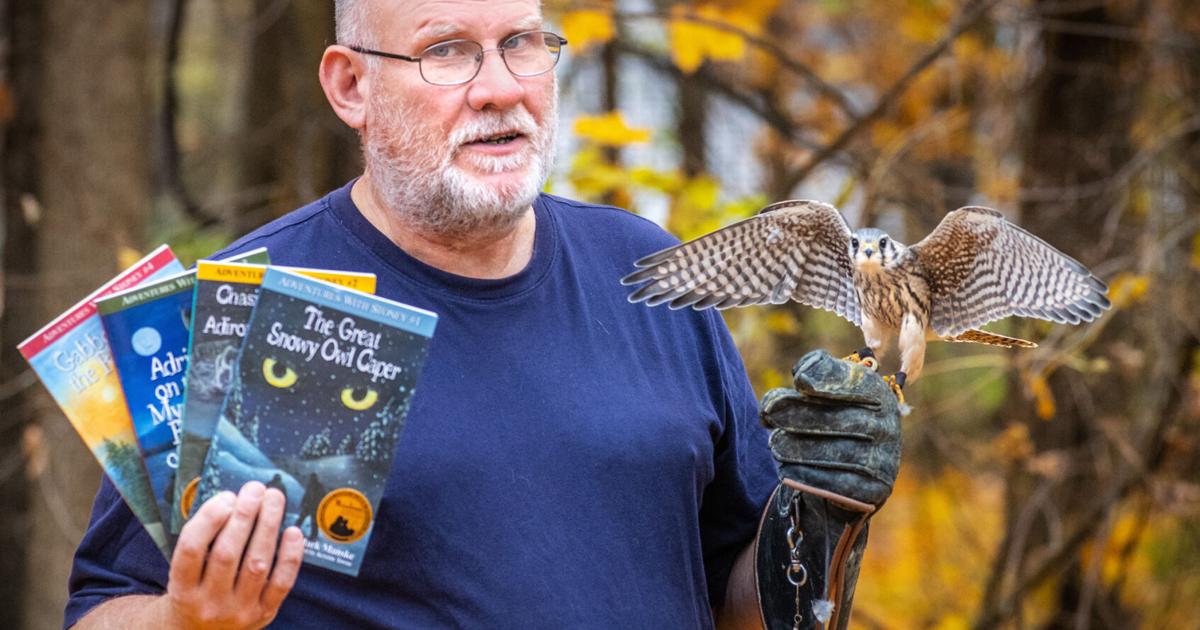 DICKINSON — A North Country author has received a Moonbeam Children's Book Award for his serial novels based on real-life experiences with wild animals.
Mark A. Manske is praised for his "Adventures with Stoney" series. It has four installments currently running. He has written a fifth to be published this fall and is writing his sixth book.
Manske said he named his main character Stoney in reference to the Potsdam Sandstoners.
"Stoney is basically my alter ego, a big guy who lives at Dickinson Center and he lives with his dog Reggie and … live hawks and owls," said Mr. Manske, who also runs the Adirondack Raptors where he exhibits birds from prey. He actually keeps six owls, two hawks, and a falcon in his Dickinson Center home.
"I will see people stopping because the building with the birds is right next to the road," he said. "I get a lot of rubberneckers."
Its Moonbeam Award is a bronze medal in their Best Chapter Books category. He hopes to use this as a springboard to spread his works, intended for college readers, to a wider audience.
"The reason I entered the whole Moonbeam contest was because I was looking for a literary agent to get my books published so I could get into books like Scholastic, so I could get into schools. Unfortunately, Scholastic Publishing kind of has a monopoly on schools. They don't look at unsolicited work. You have to have a literary agent," Mr. Manske said. "I was told that if you have an award-winning series, you're more likely to have someone interested in your work… Hopefully, first of all, it will spark interest where people want to publish the book, or two, I'll find a literary agent.
The fifth book "Adventures with Stoney" by Mr. Manske, titled "Gabboons Aloft", tells the story of the characters who follow the migrations of falcons in a hot air balloon.
"I call my apprentices 'gabbons'," he said, adding that all of his stories are based on things he experienced in real life.
In one part of the book, the characters end up rescuing a migrating loon that has become confused and ends up in a parking lot. He said it could happen to them.
"They see the shimmer of a parking lot and they get confused and think it's a body of water. Once a loon is on the ground, it can't get off the ground" due to the position of its feet on your body, Mr. Manske said, "Everything is built to be on the water."
He said falcon migrations aren't usually charted with hot air balloons, but that's within the realm of possibility and also makes for a better story, he said.
"They do it with hang gliders and parasails. I thought about getting them to do a parasailing or that sort of thing," he said.
Anyone interested in Mr. Manske's books can buy them online.
"My books at this point are not at Barnes and Noble. The best way to get them is to order directly from my website," he said, which is adventureswithstoney.com. The site also offers a list of bookstores in the area that sell his novels.
The Moonbeam Awards will be presented on Veterans Day weekend at a ceremony in Traverse City, Michigan. Mr. Manske said he does not plan to attend, but will receive a plaque and medal in the mail for his achievement.
"The Moonbeam Children's Book Awards bring increased recognition to exemplary children's books and their creators, and are dedicated to supporting children's literacy and lifelong reading," according to its website. "The competition is open to authors, illustrators and publishers worldwide of children's books written in English or Spanish, which are published with a 2021 or 2022 copyright.