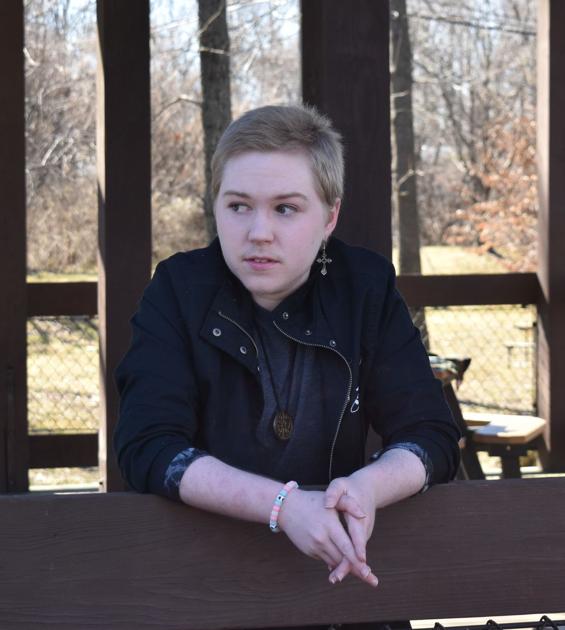 WINCHESTER – Andrew Joseph White's idea for a horror novel with a transgender protagonist came about just months after he came out as a transgender man several years ago.
"I was angry with the state of the world and the way I had been treated trying to figure everything out," he said this week.
White, a 2016 Handley High School graduate, said he was upset by the number of anti-trans bills introduced in state legislatures. PBS recently reported that in June 2021, more than 100 bills were introduced this year to restrict the rights of transgender people in US state legislatures. This is a new record for legislation targeting the transgender community, LGBT advocacy groups report.
"It took me until 19 or 20 to figure out that I was trans, and I didn't know what was wrong with me until then, so I always felt like a monster, "he said.
His anger helped shape his book "Hell Followed With Us," which he says will be released in June 2022 by Peachtree Teen via Peachtree Publishing Company.
The book is a post-apocalyptic young adult horror novel that details the story of Benji, a transgender boy who teams up with an LGBTQ + youth center to take down a fundamentalist cult that turned him into a monster, according to the site. White's Web.
"You can see the people making these laws looking at transgender kids and seeing monsters and I don't understand how they can do that," White said. "Finally, when I started to write this book, I just broke down and said, 'If they want to see us as monsters, okay, I'll give you monsters.'"
White points out that he has no problem with religion or Christianity. But he said he was disputing "what people twisted [religion] for the purpose of injuring other people.
"Look, if you're offended by that, you've got to take a hard look at yourself, because if you see yourself in there, that's a problem," White said. "I wrote it for angry kids who are trying to come to terms with themselves and have been called disgusting on the news by politicians who don't know them."
White, 22, is excited to publish his first book before earning a Masters in Creative Writing from George Mason University. He is in the third and final year of the program.
On July 1, White will be in Winchester as one of four guest writers for the week-long summer workshop for young writers organized by Project Write, a non-profit organization.
He used to attend the summer and weekend Project Write workshops when he was a student at Winchester public schools.
As a product of Project Write, White hopes to inspire other students who are aspiring writers.
"I am delighted to be back at Project Write," he said. "I hope I can talk to at least one child who resonates with the subject of the book. From the way I see it, if I help a kid through the life of publishing this book, I've been successful.
Rhonda Lancaster, director of Project Write, recalls working with White as a writer for elementary and high schools.
"Andrew already had binders full of ideas and story plans for novels, but he needed feedback on his writing. He also gave tremendous feedback to his peers, "said Lancaster. "I'm not surprised Andrew pursued creative writing in college or started a career as an editor at such a young age. We are delighted that Andrew is sharing his publishing journey as a source of inspiration for our current young writers. "
The Project Write workshop takes place from June 28 to July 2. Registration is accepted until opening day via the projectwrite.org group website. The workshop is held at Shenandoah University with an online option. Day registration is available. Contact Lancaster at [email protected] for more information.