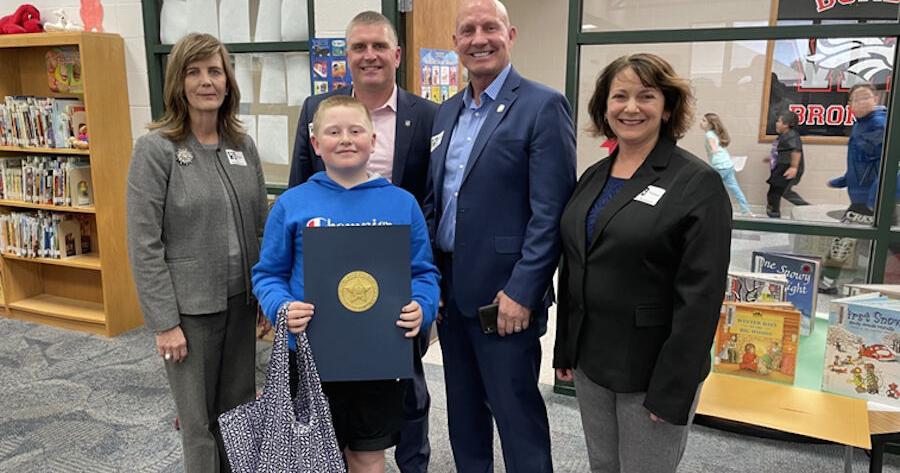 MOORE — Local government and library leaders gathered at Wayland Bonds Elementary School in Moore to celebrate a young man for his years-long commitment to a reading goal.
Brixton Lemons, 12, was first challenged by his third-grade teacher to read all of the Sequoyah children's books on that year's list, and the habit stuck. Now in sixth grade, Lemons continues to read all of the books on the children's list — also venturing into the middle list from time to time — and recently completed her 70th Sequoyah title.
After hearing about his accomplishment, local officials and Pioneer Library System staff coordinated to honor Brixton for his dedication to reading, which led to a January rally at his school library.
Joining in were Rep. Chris Kannady and State Senator Darrell Weaver, who presented an official congratulatory citation, Oklahoma Library Association President Cherity Pennington, Pioneer Library System Executive Director Lisa Wells, Wayland Bonds media, Kristen Lassiter, Sequoyah President, Kirsten Walker and the Lemons. family.
When asked if there was a time he considered quitting the challenge, he praised the Sequoyah program.
"Not really. I've always loved to read and my biggest problem is that I never find books, but during this challenge I chose the books for me. The Sequoyah list never failed," a- he declared.
Inaugurated in 1959, the Sequoyah Children's Book Award is the third oldest children's book award in the United States and has since added categories for middle and high school students.
This is the price of a student's choice; students vote for their favorite books from a list curated by a dedicated reading team, including Walker, a Pioneer Library System librarian.
"Hearing about Brixton's story was so inspiring and humbling. I love working with the teams at Sequoyah, and knowing that we've helped a student become engaged and excited about reading while inspiring others. to do so was amazing," Walker said. "As a member of the administration team at Sequoyah, it was so wonderful to see him light up as he talked about his favorite book on the list. It's rare that we get to see those moments, and being there for that moment was so awesome.
For more information, visit pioneerlibrarysystem.org to contact the nearest library. To learn more about the Sequoyah Book Awards, visit oklibs.org/page/01Sequoyah.