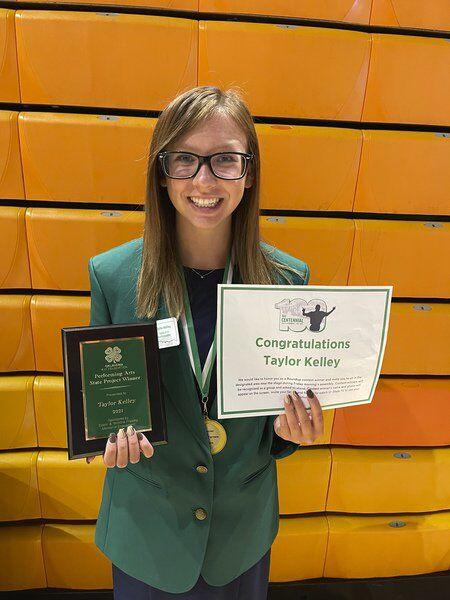 Where do you want to go to university and why?
I plan to attend the University of Missouri for a major in journalism and a minor in creative writing. The University of Missouri has the second best journalism program in the country, and many accomplished writers have graduated from this reputable university. I intend to improve not only my writing skills, but myself as a whole, and the University of Missouri will be the place and allow me to do so.
What is your list of accomplishments, including scholarships received?
Performing Arts Record Book Scholarship, County Hall of Fame Winner, Public Speaking Record Book Finalist, Outstanding Junior Member of 4-H, Pittsburg County President 4-H, Ambassador of the 'State of Oklahoma 4-H, Member of the National Honors Society, ranked 1 of 211 for McAlester High School Senior Class, 2019-2020 Student Athlete of the Year Award, All State Academic Nominee, 2018 and 2019 cross-country state qualification, state athletics qualification in 1,600-meter race and 3,200-meter race, 1st place in the age division at Route 66 Half Marathon.
What drives you to be successful?
There are a multitude of different things that make me succeed; there is nothing that has inspired me to push myself to accomplish everything I have and keep going throughout my life. I have a deep desire instilled in me to make an impact on those around me, and being successful throughout my life and working hard to achieve the goals I have set for myself is the very thing that will allow me to do so. throughout my future career in journalism.
Who inspires you to excel in school and why?
Ms. Morris, the AP English III teacher at MHS, has had a direct influence on my academic success and my desire to continue to educate and improve myself every day I come to class. She has pushed me far beyond my once perceived limits, and her success and endless dedication to each of her students is evident, and the very thing that inspired me to pursue my goals and work as hard as I can. 'she is doing it.
What community activities do you participate in and what motivates you to give back to the community?
I am involved in several different community activities including the Back 2 School Giveaway, Christmas Toy Giveaway, Silent Auction Fundraiser, Pittsburg County Talent Show, Kenna's Dance Fundraiser, "Terrifyingly Terrific Talents" Talent show, which is my own personal service project. to raise money for Keep McAlester Beautiful, Wreaths Across America, CNEP Gift Wrapping, Share the Fun talent show, and many more. Through these events, I have seen children who have nothing. They walk into the Christmas Toy Giveaway with no shoes on in the freezing cold, but their eyes light up when they see all the toys and realize they have so many options to choose from. Bringing this joy to people who haven't been able to experience it for a long time due to their circumstances is what drives me to continually give back to my community and strive to help others. No one should go without a coat for the winter or without shoes for the summer; it is our job as a community to help these people and provide them with the items they need for their lives.
What are your extracurricular activities and how do they improve your education?
I am involved in a myriad of different extracurricular activities. The extracurricular activity that fascinates me the most is 4-H. Following this amazing club, I got involved in student council, a freshman mentorship program, the National Honors Society, an internship at McAlester News Capital, guitar, piano, vocal music and many more. other things. Staying involved in all of these activities has allowed me to develop an incredible work ethic that drives my studies forward.
How would a new car help you achieve your future goals?
I plan to go to University of Missouri when I graduate from high school which is a 6 hour drive. A new car would allow me to drive there without having to worry about my car breaking down or having issues on the way or when I get there and need to drive in Missouri. A new car would help me realize my dream of attending this university.